Technology seldom makes its way into gardens and terraces within London properties, leaving much to be desired when hosting that long-awaited summer BBQ. Functionality is often overlooked due to the amount of time actually spent outdoors.
However through the use of integrated technology and intelligent design, these spaces can be transformed into something beautifully designed around you; whether that be an exciting entertaining space, or perhaps an area to relax and unwind.
Read on below to find out how we can help transform your outdoor spaces, from overgrown and overlooked, to key feature of the home.
GARDEN LIGHTING
Intelligent lighting control is quickly becoming the most requested feature within luxury smart homes. It therefore makes sense to extend this level control to the exterior of the property also.
Great lighting design combined with intelligent control has the ability to create inviting and well-balanced environments to suit your mood. Effectively using light and shadow, we can create truly dramatic effects whilst also providing useful practical benefits.
During the day the sun doesn't discriminate. It washes the garden with light, illuminating beautiful planters through to the more unsightly sheds, storage and silos.
However, at night we have the ability to regain control. We can choose what to see as well as what we'd rather not see. Imagine having ability to hide any unsightly areas of your garden and highlight all the beautiful parts?
Picture the scene: a vast span of darkness, with narrow beamed lighting illuminating a singular water fountain, statue, plant or tree. Light can be used to highlight specific features, and hide the noise.
Through intelligent lighting control, this is all possible and then some... Utilising ambient, decorative and accent lighting, we can create scenes ranging from 'Relax' to 'Dining' to 'Party' and everything in between. All of which can be easily accessed and managed, either via physical keypads or mobile device.
Motion and proximity sensors are another great way of controlling light autonomously.
Sensors can be integrated into the intelligent lighting system and can automatically activate specific lights or scenes to highlight seating areas, pools or walkways. It is also a useful animal deterrent.
Motion sensors can also be integrated with the alarm system. If motion is detected, the system can activate lighting around CCTV cameras, hopefully warding off any potential intruders.
On warmer summer days, shade is a must. Awnings and other forms of artificial shade can also be integrated and controlled, either independently or as part of the aforementioned scene control.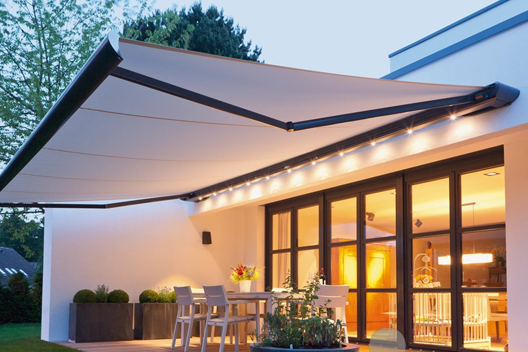 OUTDOOR AUDIO
Outdoor entertainment areas wouldn't be very entertaining without audio, so great speakers are a must.
Audio design in the home focuses on filling a confined space with high quality audio. However when outdoors, sound design is more focused on the direction of audio, getting it to the key areas as efficiently as possible.
The key to great outdoor audio is to position speakers in such a way to create an even distribution of sound, encompassing the garden with an even level of audio. As opposed to having one area that is very loud and rest struggling to be reached.
How the homeowner interacts with the garden is a good indication of what type of speakers to specify and indeed where. Are they to be fixed in one place? Or will they need to be movable depending on activity. Size of the garden naturally plays a key role in the decision phase, as does the vicinity to neighbouring properties.
We classify outdoor speakers in three ways.
Hidden or landscape speakers are popular as they subtly blend into planters and greenery around the garden. Providing powerful sound and an immersive listening experience with speakers that are not visually distracting.Sonance Sonoarray Speakers
On-wall speakers are also a popular choice, they can be positioned under the roof of a gazebo or on beams of a veranda. They are extremely versatile and work well in outdoor spaces without greenery to hide speakers amongst.Bowers & Wilkins On-wall speakers, left and right. Sonos on-wall speaker with Sonance, centre.
Display speakers are designed to make a statement. Beautifully designed, handcrafted and provide omnidirectional sound. These speakers are designed to provoke conversation, they will stand out as the ultimate combination of luxury design and sound engineering.Architettura Sonora Speakers
Mechanical Speakers can hide and reveal themselves when needed. CSEED Speakers
Whether garden or roof terrace, having audio outside can transform a space. With an integrated control system, you no longer have to worry about woeful Wi-Fi strength interrupting your listening experience. As part of the design process, we will ensure speakers and subwoofers are all connected directly to your streaming services, meaning Spotify and Tidal can stream at full resolution with zero drop out.
All outdoor speakers should be water and weatherproof to withstand extreme heat, rain and snow.
READ MORE ABOUT OUTDOOR AUDIO HERE.
GARDEN VIDEO
As integrators who have designed cinema rooms we conclusively say: do not put a projector outside. We love projectors and they work brilliantly... inside!
Natural light will wash out the projected image and with constantly changing weather conditions, projectors need to be constantly adjusted for the perfect picture.
Is it still possible? Yes. However, the time, effort and associated costs involved in making an outdoor projection system work will equal that of a pretty decent dedicated indoor home cinema room.
Outdoor video is an essential element to any garden entertainment area. Whether it be for the latest sporting event, watch parties, or even home movies. The right TV and ideally optimal conditions are required in order to create a pleasant viewing experience.
Samsung The Terrace Outdoor TV shown with The Terrace Soundbar
TVs housed within weather-proof enclosures is an option when installing an standard TV outdoors. This provides a simple solution to stop water, dust and other particulates from damaging your TV.
However, the downside is that the TV will need to be positioned in the shade in order to view the picture correctly. Indoor TVs typically cannot produce nearly the level of brightness required to be viewed outdoors, or in direct sunlight.
The second, and in our opinion best way, is to have an IP rated outdoor specific TV such as the Samsung Terrace. This TV is purpose built for outdoor applications, and can achieve up to 4 times the brightness of a standard indoor TV. In-built sensors can detect ambient lighting conditions and automatically adjust itself, ensuring you always see a perfect image.
TV audio can also be directed to any outdoor speakers or from an IP rated soundbar sitting underneath the TV.
Watch the video below to learn more about the Samsung The Terrace TV;
Samsung The Terrace TV
Furthermore, outdoor TVs can also be hidden inside custom joinery. This way you can hide and reveal the screen whenever needed.
Future Automation custom movement with outdoor TV.
Outdoor TVs will change the way you use your garden. Transforming your outdoor space into the perfect venue to spend time with the family or friends, watching sports or the latest films.
COMPLETE INTEGRATION
Beyond lighting, audio and video integration, other systems such as networking and HVAC can also be extended from the home into the garden.
"No-one ever gets Wi-Fi in the garden" - Sound familiar?
Having Wi-Fi access outdoors is possible. IP rated, weather proof Wi-fi boosters can be hardwired into the central network enabling complete coverage outdoors. Good cabling infrastructure here is key. Through great network distribution, we can also ensure all external fixed devices such as TVs and speakers are also hardwired to the network, keeping Wi-Fi free for mobile devices.
HVAC systems can also be extended outdoors, allowing for simplified control over a variety of services. I.e. Preheating swimming pools, activating heat lamps, hot tub jets etc. all before even stepping outside. Home automation can also take control of sprinkler systems where needed.
THE PERFECT GARDEN
With intelligent control, lighting, audio, video and other home services can be activated at the simple push of a button. Meaning spontaneous outdoor evenings are now an option.
Let us help create your perfect outdoor space. If you are interested in learning more, contact us now to discuss.